While we are building this course, Subscribers can view the lesson videos in long playlist format:

Loading Videos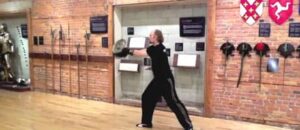 We begin with a look at core mechanics of the sidesword. Power generation, body alignment, union of forces, and a good tactical foundation are necessary to wield this weapon well and approach the later content we'll be learning.
To graduate to the Red Cord (our third rank) we require that all students demonstrate a proficient and intentional solo presentation of Marozzo's First Assault. This particular assault features a very interesting and challenge mix of cover positions and sequences of attacks. Start slow, build precision, then build speed.
The Second Assault, which we're starting on this week, includes a greater selection of rising attacks as well as combined actions that assault inside and outside, high and low. These assaults are ideal teachers of complex actions where one intention flows quickly and fluidly into the next.
Course Content
Acknowledgement of Safety and Risk
Practice all exercises slowly and with control.
Practice using training swords that are not sharp and are specifically made for practice.
Use protective gear for all exercises. In many of our videos we are not wearing head, throat or body protection in order to make clear explanation more possible. You should always use protective gear when practicing these arts regardless of the exercise.
Be aware that injuries in training are always possible. Ensure that you are practicing with care and caution at all times.
DuelloTV is not responsible for any injuries that occur as a result of sword practice inspired from our videos.