While we are building this course, Subscribers can view the lesson videos in long playlist format:

Loading Videos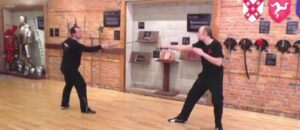 Lessons 5 & 6: We are introducing the concepts of the deceptive fight, in particular the use of the "feint". A feint is a false attack designed to draw a predictable reaction from our opponent. In our second and following lessons, we look at the properties we bring into our feinting technique to keep ourselves safe while inviting our opponent out of position.
Lessons 7 & 8: We continue our exploration of feints looking at how to safely deliver a false attack to your opponent from a position of cover, where you have your opponent's line already closed, and using tempo as your cover, feinting in a moment where your opponent is unable to strike and more inclined to respond in a way that opens them.
Course Content
Acknowledgement of Safety and Risk
Practice all exercises slowly and with control.
Practice using training swords that are not sharp and are specifically made for practice.
Use protective gear for all exercises. In many of our videos we are not wearing head, throat or body protection in order to make clear explanation more possible. You should always use protective gear when practicing these arts regardless of the exercise.
Be aware that injuries in training are always possible. Ensure that you are practicing with care and caution at all times.
DuelloTV is not responsible for any injuries that occur as a result of sword practice inspired from our videos.