While we are building this course, Subscribers can view the lesson videos in long playlist format:

Loading Videos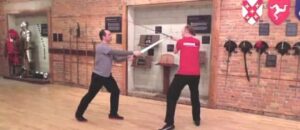 Lesson 1: Posta Finestra is a position we often come to when we have parried a blow to the head but can also be reached at the end of a cut, and as a transitiong between posta di dona and a more extended position. In this class we look at how to cut with intention and efficient mechanics from both finestra guards while being tested by our partner to ensure we are covering our hands and body's appropriately.
Lesson 2: We look at how movement into Finestra provides defense against various kinds of descending blows both in front (parry) and behind (deflection) the sword.
Lesson 3: Finestra places the sword at the top of the body, making it so that the only openings for the opponent are below the sword. In this class we look at the simplicity of defense from this posta.
Lessons 4 & 5: This week in longsword focus we look at how to defend against the thrust both through exchanging and breaking, and then we review how to use Finestra in various combative contexts.
Lessons 6, 7 & 8: In these classes we will be exploring how to defeat posta Finestra by engaging it and pushing it out of position, striking through it, provoking it to defend and provoking it to attack.
Course Content
Acknowledgement of Safety and Risk
Practice all exercises slowly and with control.
Practice using training swords that are not sharp and are specifically made for practice.
Use protective gear for all exercises. In many of our videos we are not wearing head, throat or body protection in order to make clear explanation more possible. You should always use protective gear when practicing these arts regardless of the exercise.
Be aware that injuries in training are always possible. Ensure that you are practicing with care and caution at all times.
DuelloTV is not responsible for any injuries that occur as a result of sword practice inspired from our videos.