While we are building this course, Subscribers can view the lesson videos in long playlist format:

Loading Videos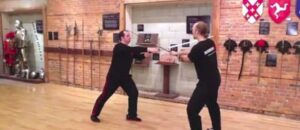 Lesson 1 & 2: The sword in two hands is a powerful tool for cutting and defending against cuts. In this week of class we look at the fundamentals of making powerful, mechanically and tactically sound cuts as well as how to cross those cuts at various distances and with various blade relationships.
Lesson 3 & 4: We examine five ways to win the crossing of swords. With these five winnings in mind, we begin our exploration of a system of defenses in each "quadrant" (high and low on the left and right) and what methods are required for each winning action. Our focus in these lessons is on defenses vs. the Fendente.
Acknowledgement of Safety and Risk
Practice all exercises slowly and with control.
Practice using training swords that are not sharp and are specifically made for practice.
Use protective gear for all exercises. In many of our videos we are not wearing head, throat or body protection in order to make clear explanation more possible. You should always use protective gear when practicing these arts regardless of the exercise.
Be aware that injuries in training are always possible. Ensure that you are practicing with care and caution at all times.
DuelloTV is not responsible for any injuries that occur as a result of sword practice inspired from our videos.